Join the Friends of the Hillside Public Library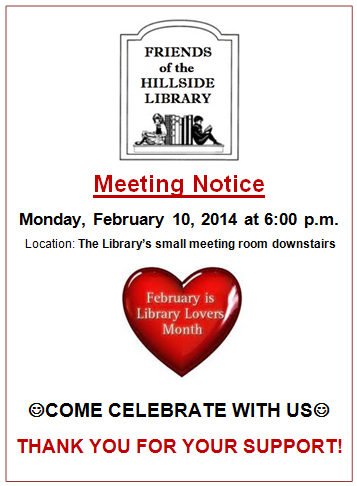 -Who are the Friends of the Library?-
The Friends of the Hillside Public Library is a group of people who have come together as a non-profit volunteer organization dedicated to supporting the Hillside Public Library.
What do the Friends do?
The Friends promote the interest and welfare of the library by providing direct financial help so that the library can purchase needed items not available through the regular library budget.  The Friends finance their support through events such as book sales and yearly membership dues.  The Friends will also be participating in the Project UFO on May 17th.  When the village has parades, the Friends march in the parades and hand out pencils or something similar.
The following are a few of the past purchases made for the Library by the Friends organization:
-       Newly Designed Service Desk
-       Mural
-       Book Shelves
When does the Friends group meet?
To reflect and honor the different schedules of our members the Friends monthly meeting date and time will be done by a majority vote at the previous month's meeting and will be posted both in the library and on the library website.  Please check the library board and look for an email alert or postcard in the mail.  Thank you.
How do I join?
To enroll for a year of membership, please pick up and complete a form (available in the library) and mail or bring to the Library with cash or check (made payable to Friends of the Hillside Library).
Friends of the Hillside Library
405 N. Hillside Avenue
Hillside, IL. 60162