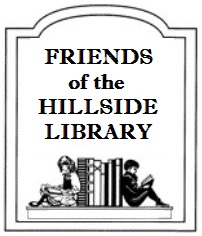 MEETINGS HELD ON THE 3RD MONDAY OF EACH MONTH AT 6:00PM
Who are the Friends of the Library?
The Friends of the Hillside Public Library (FOHL) is a group of people who have come together as a non-profit volunteer organization dedicated to supporting the Hillside Public Library.
What do the Friends do?
The Friends promote the interest and welfare of the Library by providing direct financial help so that the Library can purchase needed items not available through the regular Library budget.  The Friends finance their support through our newly established (February 2014) corner bookstore located in the Library along with events such as our annual book sale / bake sale and yearly membership dues.  The Friends also contribute to the bags given out to the participants at the Village's annual Halloween bonfire.
The following are a few of the past purchases made for the Library by the Friends organization:
– Newly Designed Service Desk
– Mural
– Book Shelves
– Library book bags
When does the Friends group meet?
The Friends meet the 3rd Monday of each month at 6pm at the Library.  Members and Library patrons can check the Library or the Library's website for any meeting updates and/or changes.
How do I join?
To enroll for a year of membership, please pick up and complete a form (available in the Library) and mail or bring to the Library with cash or check (made payable to Friends of the Hillside Library).
News and Events
Click the link below for a complete list of upcoming Friends of the Hillside Library events.
FOHL Event Calendar for JULY – DEC 2015
THANK YOU FOR YOUR CONTINUING SUPPORT
OF THE
FRIENDS OF THE HILLSIDE LIBRARY