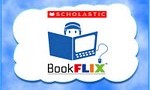 Scholastic BookFLIX pairs classic video storybooks with related nonfiction eBooks. An engaging way to link fact and fiction. BookFlix reinforces early reading skills and provides an introduction to a world of knowledge and exploration. Go to the "Research" tab, click on "Alphabetical List of Reference Databases", go to "Scholastic BookFLIX". You will need Hillside library card to access this database.
Media on Demand lets you download ebooks and audiobooks for adults and children. Go to the "Digital Media" tab and click on "Media on Demand".
Download the Libby app to access ebooks and audiobooks from your phone or tablet.